Why Vermont was a national outlier in high school grad enrollment at community college in fall 2020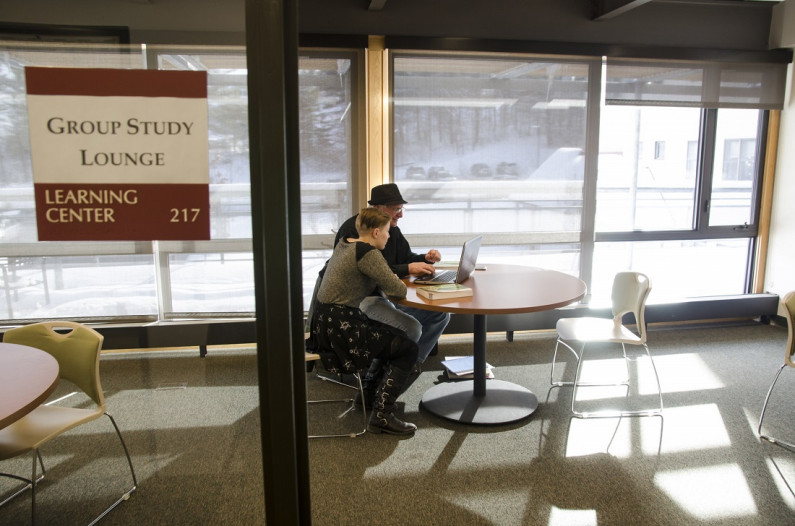 In June 2020, Vermont high school seniors said goodbye to counselors, teachers, and fellow students under unusual circumstances required to keep them safe from the virus that had defined the end of their high school experience. No filled tents, no tossing hats—celebrating at a distance, with the help of technology and drive-through ceremonies.
As most students celebrated graduation, Governor Phil Scott announced a graduation gift from the McClure Foundation to the entire Vermont class of 2020 of one free course of their choosing at the Community College of Vermont (CCV) this fall. The McClure Foundation wanted to help make it easy for students to continue their education and training; they also wanted to support a relational hand-off between high school counselors and the academic and career advisors at CCV who could help students chart their next steps.
Because the concept came together so quickly at a time of such uncertainty, nobody knew how many students would take the McClure Foundation up on its offer. There was no roadmap on how to plan for post-graduation life in a pandemic. Most students weren't sure how college would be delivered in the fall. Others knew that COVID-19's impact on their family meant new hardships in paying for college. National experts looked to FAFSA completion and student enrollment data and feared a historic drop in student continuation to college and career training.
By and large, those fears were realized. First-year student enrollment at colleges nationally was 16% lower than in 2019 according to the National Student Clearinghouse. At community colleges, first-year enrollment dropped 22%, most especially among students of color as well as those from families experiencing poverty. It seemed the pandemic was accelerating the inequities that have long characterized access to and success in higher education.
But Vermont turned out to be an outlier, at least on one front: new enrollment of recent high school grads at CCV doubled this fall as compared to recent years. The McClure Foundation's graduation gift played a big role.
Three months after the gift was announced, over 600 members of the class of 2020 had enrolled at CCV. Preliminary data confirms that the graduation gift is benefiting students from all backgrounds: about half say they would be first-in-family with a college degree. And Orleans County in the Northeast Kingdom has the highest enrollment rate relative to its young adult population.
Students say the gift has relieved financial stress, helped them refocus and find direction, and encouraged them to continue their education amid so much disruption.
Nick C. says college was something he dreamed about but never thought he would be able to afford. He's from a low-income household and "every dollar counts." He's taking two CCV courses – Intro to Visual Communications and Dimensions of Self & Society – and says so far college feels manageable because half of his courses are paid for. He works full-time as a personal care attendant and his dream is to become a graphic designer.
Emily D. wanted to work at an animal care facility after graduating high school. But a medical condition puts her at high risk for the virus, and she and her parents were concerned about exposure. Her mom says the free course was "the exact right opportunity for her at exactly the right time... participation in this class has sparked her interest in pursuing a degree in veterinary technology, which is not something that she believed could be possible for herself several months ago."
Josh B. graduated from BFA St. Albans and plans to complete basic training for the Vermont Air National Guard before starting at UVM in 2022. He's taking Intro to Criminology at CCV and hopes to enter the criminal justice field. He says college is "really expensive" and being from a middle class family, this free course has helped.
Some of the students are taking courses embedded within short-term career training programs. The Foundation has long advocated for non-degree education and training pathways that lead to good jobs. CCV offers many such pathways, including certified public bookkeeping and registered apprenticeships in medical assisting, pharmacy technician, and manufacturing production technician. Short-term career training programs that are nested within degree programs are particularly appealing options because students can apply credit towards a degree if they decide to continue their education in the future.
Says McClure Foundation Executive Director Carolyn Weir: "With this graduation gift, we essentially removed the perception of cost as a barrier to accessing college. When we consider what happened – the enrollment of recent grads at CCV doubled at a time in which new student enrollment at community colleges nationally plummeted – cost emerges as the primary factor in young people's decisions to continue onto college and career training. This scale of enrollment demonstrates that when the public's perception of cost is removed, Vermonters enroll. The $2.3M Coronavirus Relief Fund appropriation this fall for free Vermont State College courses demonstrates the same."
The Foundation believes that if Vermonters knew they could count on college and career training being very affordable, longstanding orthodoxies around postsecondary continuation would change, especially among those who have the most to gain from a degree or a career training certificate.
The Foundation points to three factors in the success of the initiative.
First: the initiative's core design values were hope and simplicity. "Every component of this initiative was designed to inspire hope and to be easy to understand and to access," says Weir. "The scholarships were first-dollar-in; students could choose any course available at CCV during the fall semester; every single person who graduated from high school in Vermont in 2020 was eligible. We believed that structuring the gift as a universal opportunity for students would encourage take-up across the board, and it appears that played out. Our messaging was simple and positive: we told young people we believed in them and thought they deserved something they could count on."
Second: the Foundation partnered with an institution that embraced a big idea on a short timeline and was positioned to quickly scale its courses and supports. "CCV was ready to serve," says Weir. "They're Vermont's access institution: they have locations within 25 miles of 95% of Vermonters and enroll the greatest number of Vermonters of any college in the state. Becoming a CCV student is simple and so is transferring CCV credits, which made them the logical choice of partner in this initiative." Applying to CCV requires no fees, no essays, no reference letters, and no standardized test scores. It's part of the Vermont State Colleges and has long served as an entry point for students to other colleges within and outside the system.
Third: the Foundation ensured extra supports for CCV and students. They augmented their gift of free courses with a gift to CCV to support marketing, administering, and evaluating the initiative. And they worked with CCV to incent student connection with academic advisors, career consultants, and peer advisory groups that helped students clarify their goals, connect to non-academic supports, and chart next steps in their education and training paths.
"2020 marks our 25th anniversary as a Foundation," says Weir. "Throughout that time, as our understanding of the needs and opportunities facing Vermonters and Vermont communities has evolved, the ethos of the McClure family's giving has remained constant: inspire hope and invest in the potential of Vermont's greatest resource – its people. This gift to the graduating class of 2020 falls right in line with those values and caps a decade of work to make college and career training more accessible and affordable for Vermonters. It's helped us clarify our vision of what's possible in Vermont: guaranteed affordable college and career training options that that lead to good jobs and create more equity and resilience in our state."