Who are today's college students?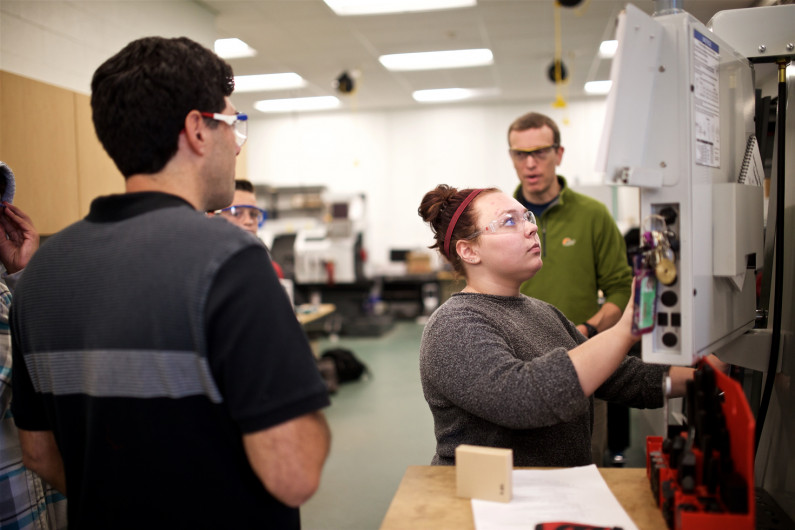 The image most of us have of a college student—the quintessential 18-22-year-old who has just graduated high school and is now studying full-time on a residential campus and living the idyllic college life—needs updating.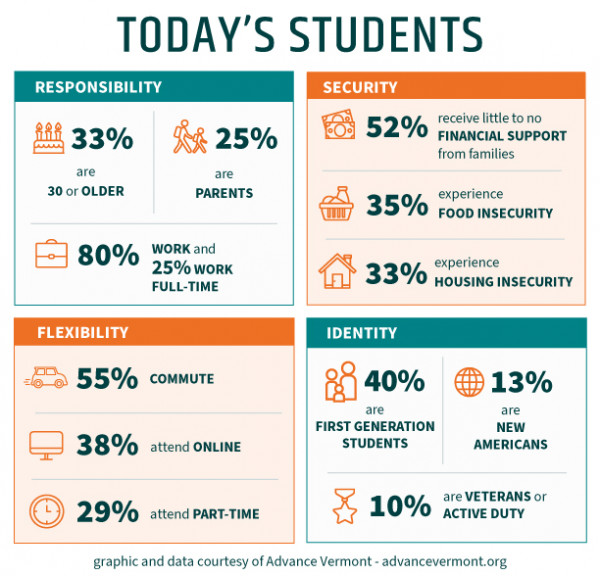 According to new data from Advance Vermont, today's Vermont students are juggling work, family and other life responsibilities like no generation before them. Twenty-five percent are parents. Over a third experience food or housing insecurity. Over half commute and 38% attend online. (click here to view the image)
This requires a reckoning on the part of college and career training systems whose ethos and services are primarily designed to meet the needs of those 18-22-year-old full-time students.
We witnessed a part of that reckoning recently at Advance Vermont's Today's Student Summit, which the McClure Foundation helped to sponsor. At the event, we were asked to talk about data that tells stories about community barriers to accessing education and training after high school – and about why those credentials matter to communities.
Although the Community Foundation is not a data producer, we use data every day. Data helps us be responsible stewards of the charitable resources we manage. What we are doing to put money into communities, institutions, and programs is responsive to the stories data tells us about opportunity gaps in Vermont.
Data producers and aggregators like Public Assets and Let's Grow Kids shed startling light on community barriers to accessing education and training after high school – barriers like affordable housing and childcare and poverty—and we encourage you to dive deep into their reports.
We often hear data about why those barriers matter to the individual: Georgetown's Center on Education & The Workforce points to the divergent earnings potential between people who continue their education beyond high school and those who don't. And social scientists like Richard Reeves at the Brooking Institution say that helping low-income students attend and graduate from college and career training is the closest thing we have to a silver bullet in advancing economic mobility.
When Richard Reeves writes about mobility from poverty, I want to assume he's thinking about the comprehensive definition being advanced by the US Partnership on Mobility from Poverty that includes power, autonomy, and being valued in one's community in addition to economic markers. Because that's at the heart of why college and career training matters to community.
Rich Clark, the professor of political science at Castleton University who directed the recently released Rural Life Survey with VPR and Vermont PBS, pointed out that the survey reveals Vermonters' perceptions of quality of life change significantly based on their education level. 49% percent of those with a college degree said the quality of life was "excellent," as opposed to only 22% with a high school diploma or less. Interestingly, this divergence seems to hold true for how hopeful we feel others should be about Vermont. The same survey reveals that people with a college degree would advise an 18-year old looking to build a successful life and career to stay in Vermont just as often as they'd advise them to leave; people with a high school diploma or less were much more likely to tell a young person to leave: only 35% said stay.
The survey also says that nearly a quarter of Vermonter respondents with a HS diploma or less said they feel isolated from others "always" or "often." Only one in 10 Vermonters with a four-year degree of higher said the same.
Our sense of hope for our neighbors and our communities—and our feelings about how connected we feel to them—is profound and influential. On the one hand, that such feelings may correlate with educational attainment affirms what higher education has long claimed: that when its graduates go out into the world, they contribute to the civic and social and democratic strength of our communities.
On the other hand, it also underscores how, when our postsecondary systems aren't serving everyone, they can do just as much to entrench the gaps in opportunity and outcomes that too often leave the talents of low-income families and families of color and others on the table.
And so we're doubling down in our commitment to think deeply about who institutions of learning serve—and who they don't—and on which students, families, and institutions we must center our funding in order to keep equity at the center of that commitment.
We're putting that commitment to practice right now. On January 2, we launched our 2020 competitive grant round with an open call for Letters of Interest from programs and efforts that improve equitable access to the postsecondary and career education that leads to Vermont's most promising jobs. More information about the grant program and how to apply is available at mcclurevt.org.